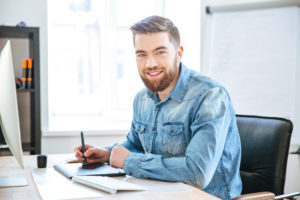 Mark Alvarado is a 35-year-old graphic designer from California. Born and raised on the outskirts of Los Angeles, he has made his way all over the Golden State in pursuit of education and job opportunities. After graduating from the Alexander Hamilton High School, he went to the University of California, Los Angeles. Whilst there, his creativity and passion for learning were sculpted into useful career skills by seasoned professors.
Born to a middle-class family, Mr. Alvarado has never been a stranger to working. During his teenage years, most of his job opportunities arose out of necessity caused by financial adversity that he experienced. This continued as he galloped through numerous classes at UCLA where he was fully liable for the entire cost of attendance. Luckily, a mix of good grades and community service facilitated scholarship opportunities that helped him pay for expenses which were not covered by his part-time employment.
Prior to starting his career in the field of graphic design, Mark Alvarado simultaneously studied the basic concept of entrepreneurship and technology. This helped him learn how sole proprietorships are set up and what type of growth strategies will help them increase revenues fast. As a consequence, a large share of his client base is composed of long-term customers that keep him on their payroll as a consultant.
As far as his actual work-related endeavors, Mr. Alvarado spends the majority of his time working on web development and improving companies' online presence through state-of-the-art branding methods. Those include complex marketing campaigns that are based on elaborate algorithms, the implication of modern feedback systems, as well as automation of data processing that helps streamline multi-department operations.
Besides being a virtuoso behind a computer screen, he is a well-versed traveler that has seen numerous states within the U.S. borders. During one of his trips, he encountered a seemingly unbelievable bargain for a property in Texas. Now, that property serves as his destination for short-term getaways or friendly competitions in archery. Not to mention that he has upgraded it enough to score a 100 percent yield whenever he decides to sell it.
One of the main reasons why Mr. Alvarado's success has been so long-lived is the fact that his ambitions exceed any unexpected shortcomings. Ever since he obtained a bachelor's degree in 2007, which he paid for with the fruits of his own labor, he has been exposed to a steep learning curve within his industry. In the beginning, his skills only reflected the "grid system" material that was covered in his coursework. Nowadays, he is frequently welcomed as a guest speaker at the UCLA where his understanding of the correlation between innovation and graphic design educates others.
In the near future, he is aiming to expand his business by adding an online consulting practice to his resume. Supposedly, such an endeavor could help him increase revenues without significantly affecting the overhead costs. Ultimately, Alvarado hopes to create an empire that will be self-sustainable under the supervision of no more than a handful of employees. That would provide him with a royalty-based source of income while he enjoys his property in Marfa and hosts occasional archery contests.